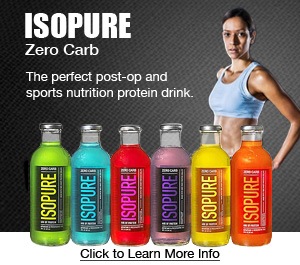 The perfect post-op and sports nutrition protein drink, Isopure Zero Carb is 100% pure ion exchange whey protein isolate. So pure you can see through it. There are no impurities, no byproducts. This is protein that has reached its purest state.
Isopure has a taste that is easily accepted. Fresh, not too sweet, invigorating and pure. Isopure may well prevent the loss of lean tissue. It may replace egg whites and soft cheese, skim milk and low fat frozen yogurt, even red meat, as a primary source of protein.
This drink is also recommended for those recovering from bariatric surgery.
Isopure® Zero Carb has no sugar, no carbs, no preservatives, no fat and is lactose free. Contains 40 grams of the purest protein known to science in a 20 oz. bottle.
Available Flavors: Coconut, Pineapple Orange Banana, Mango Peach, Icy Orange, Grape Frost, Apple Melon, Blue Raspberry, and Alpine Punch.
Quick Delivery and an Everyday LOW Price: $41.25, Case (12 ct).